Welcome to Hammersmith & Fulham Volunteer Centre
We strongly believe volunteering is a gateway to opportunities: employment, training, education and enterprise.
HFVC is a not-for-profit organisation committed to developing, supporting and promoting volunteering in West London. We also do a lot of work with unemployed people, helping with training, job searching and confidence-building.
We work closely with local charities and community groups – the people who do so much to support our area. We keep in touch with them to find out what volunteering opportunities/jobs are available.
Founded in 1986, Hammersmith and Fulham Volunteer Centre is one of the largest Volunteer Centres in London and works with individuals, organisations and businesses across several West London boroughs.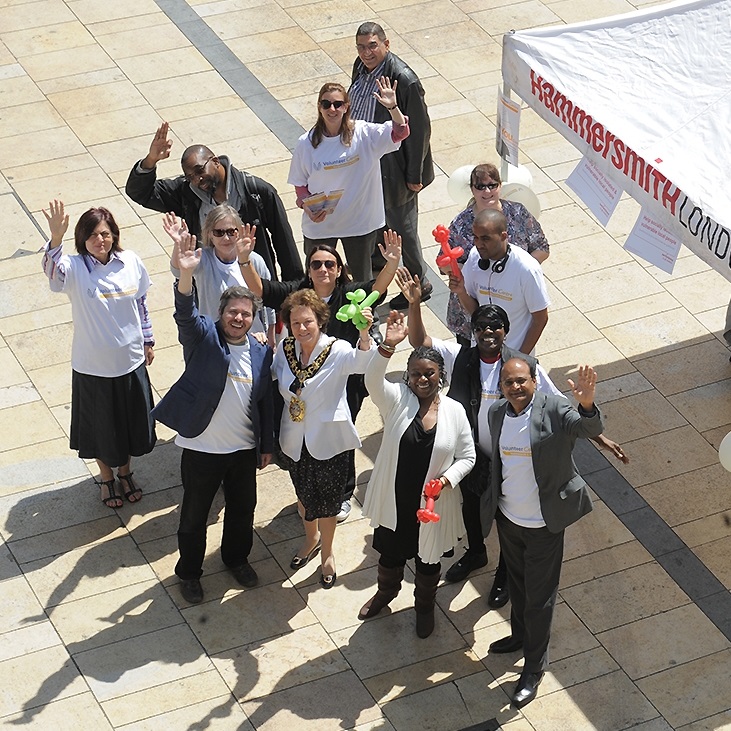 Our Team
Dominic Pinkney - Chief Executive
Dominic joined the Hammersmith and Fulham Volunteer Centre in February 2013 having formerly been the Vice-Chair of HFVC's Board of Trustees and takes responsibility for driving HFVC's strategy, marketing as well as its business-facing social enterprise Works 4U. He utilizes his mix of public and private sector experience (strategy development, business planning, research, evaluations, social media intelligence) to help deliver the objectives of the organisation's three entities: HFVC, Brent Active Citizens and Works 4U.

As a proven relationship-builder, he is working on developing the organization's wide-ranging work with the corporate sector and helping them to engage with communities for mutual benefit. Having founded and managed Pedantic Consulting, Dominic brings great knowledge and expertise of best practice and innovative working in the charity sector.

Dominic is Vice-Chair of the West London Network, the sub-regional body for the voluntary & community sector (VCS) in West London, covering the six boroughs of Brent, Ealing, Hammersmith & Fulham, Harrow, Hillingdon and Hounslow.

He also co-founded the London ESV Network which brings together voluntary organisations to help businesses to do more to support communities in a larger, co-ordinated and sustained way.


Philip Boye-Anawomah – Head of Volunteering
Philip has been working for 12 Years in the voluntary and Charity Sector, including managing the Volunteer Centre in Islington for a number of years, after 15 years in the legal sector.
He is an accredited trainer, and IAG advisor and he has specialised in volunteer management, employment support through volunteering and governance support for charities and providing bespoke training for organisations like The British Museum and Age UK.

At HFVC Philip is responsible for the management of the volunteering service for the Borough of Hammersmith & Fulham, ensuring clients are successfully matched with volunteering opportunities in the community.
He also provides advice and training to local Volunteer Involving Organisations as to Volunteer Management. He coordinates the Camera Emergency Response Volunteer Team recruitment, and is Trustee of a problem-gambling support charity.


Milen Kolev – Finance Manager


Lillian Blankson – Office Manager/Volunteer Coordinator
Lillian manages the HFVC offices and is responsible for maintaining and sourcing office services and facilities. She joined the organisation in 2016 having previously worked for several major blue chip companies in account and service management.
Her other responsibilities include organising training workshops, DBS applications control, as the lead signatory and managing the successful 'Learn My Way' adult IT skills courses. She is also part of the Core Services team, interviewing prospective clients and supporting them to find suitable volunteering opportunities. Lillian enjoys helping others and regularly volunteers at her local Saturday school.


Sofia Pascoal – Corporate Engagement Manager
Sofia joined Works4U in March 2017 as the Corporate Engagement Manager. She has over four years of non-profit experience in communication, corporate partnership management and event planning. She holds a BA in Communication Sciences from Nova University of Lisbon and is currently completing her MA in Globalisation Business and Development at the Institute of Development Studies – University of Sussex.
Before joining Works4U, Sofia worked at Make-A-Wish Portugal where she first started as the Communication and Events Manager and later Communication and Corporate Partnerships Manager. She is truly passionate about the role that businesses can play in their community and the impactful outcomes that can come out from efficient and well-structured business/community integration.


Sandra Brown – Volunteer Coordinator
Sandra's welcoming face is the very first thing you see when visiting HFVC! She is very passionate about her job and enjoys working with volunteers and local community organisations. She has worked as the Volunteer Centre receptionist since 2007 and also performs a wide range of administrative tasks, including helping volunteers to get registered. She is an integral member of the HFVC team.


Ann-Marie Ruddock – Project Coordinator
Ann-Marie joined the HFVC in 2008 where she developed skills to successfully place clients in volunteer roles within the community. Further training and experience of working with people of all ages and backgrounds led her to take the lead on several projects, including delivering the 'Human Library' and as Project Coordinator on the 'Community Champions Project'.

At present, Ann-Marie is the Project Manager for the 'Bayonne and Field Road Community Champions Project' whose aim is to build the capacity of local residents to work together with local health service providers and commissioners so that services are better designed to meet their local health and social care needs.


Trustees
Charles Forsyth - Chair
Charles has been a trustee of HFVC since 2010 when he moved to Hammersmith having spent a number of years working overseas for British Airways. He is involved in the local community, also serving as Vice Chair of the Governing Body of Greenside Primary School.

Charles currently works as Communications Director for a start up land acquisition company and is a graduate of Cambridge and Stanford Universities.


Zarar Qayyum - Vice-Chair
Zarar has been a trustee of HFVC since 2014 and is the Labour Councillor for North End/West Kensington http://democracy.lbhf.gov.uk/mgUserInfo.aspx?UID=1827

He has lived in Hammersmith & Fulham for over 15 years, and runs a welfare-to-work business specialising in improving people's skills and getting them into sustainable employment. He has Master's degree in Human resources and experience of working in public, private and third sector organisations.

Zarar has always been active in local communities and local issues.


Kawal Singh OBE
Kawal joined the HFVC Group as a Trustee in 2012 and offers her considerable experience and knowledge of the education sector. In 2002 Kawal was awarded an OBE for her services to education.


Stan Paschal
Stan has lived for the most part of his life in London and his passions include education, work and involvement in charity voluntary work. He worked for Lambeth Council and South Bank University London, in the planning, Housing and Technical Department.

Stan's involvement in voluntary work covers a wide range of services over a long period performing various roles, including: co-founder of Fulham Friendly Community association, Member of the Management Committee of the Notting Hill Housing Trust, Chair and Co-ordinator of the Randolph Beresford Trust, founder of the Museum for African Caribbean Region, and Secretary to the Kidney Patients Association London.


Matt Thorley - Treasurer
Matt was elected as a Trustee of the Hammersmith and Fulham Volunteer Centre in 2011. Matt has been a local Councillor for Fulham Broadway Ward in Hammersmith and Fulham since May 2010. He was brought up in Fulham and now lives on the Dawes Road, right in the heart of the Fulham Broadway Ward. He is an active member of the local community and serves as governor of Fulham Primary School.

He currently works as a financial consultant specialising in risk management. Previously he has worked in the House of Commons, the Finsbury Group and at Standard Chartered Bank where he was involved in a campaign called "Seeing is Believing" which has helped over 25 million people since its launch back in 2003.

He is a season ticket holder at Fulham Football Club and in his spare time enjoys cricket and running. He has completed the London Marathon on four occasions.


Aliya Afzal Khan
Aliya Afzal Khan joined HFVC as a Trustee in 2018. She has lived in London since 2008 after moving from New York. She moved to New Kings Road in Hammersmith and Fulham in 2015.

She is a Computer Engineer, has a MBA in Marketing and IT and studied Art at Columbia University NY. She has worked in the Hospitality, Healthcare and Education Sector and currently works in the Voluntary Sector and offers her considerable experience and knowledge across various sectors and communities.

She enjoys painting and conducting mentoring workshops on Leadership for women and youth. She is a member of the Society of Fulham Artists and Potters and also supports the Fulham Palace Educational Programmes.