Volunteering with Animals
If you see a pet on the street and can's stop smiling, if you love a furry friend but haven't got one of your own, this is your chance to feel their companionship. Many of us can't commit to a pet due to busy schedules or various reasons but still melt when we see one on the street. Volunteering with animals is the perfect solution for those of us having this problem! This type of volunteering lets us enjoy some quality time with animals, help them feel loved and create the ideal environment for them to live a healthy life.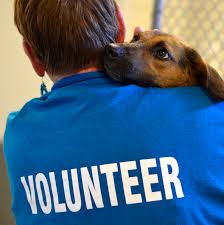 Some examples to volunteering with animals include:
Helping out and spending time with the pets at the shelters,
Cleaning kennels,
Walking dogs and socialising cats,
Fostering pets for a short while as they recover from illness,
Meeting and greeting customers in animal hospitals or kennels,
Helping out organising events to find homes for pets in need.
Register with us
At Hammersmith and Fulham Volunteer Centre we can help you to find a volunteering opportunity that matches your skills and interests. There is a huge range of volunteering opportunities available, including retail, office based volunteering, befriending, sports, and gardening. Whatever you choose to do, be assured that you will be making a difference to your local community, as well as improving your health and well-being.